When your heart speaks the world listens
Kent Environmental Business of the Year 2007/8 and finalists in the Green Business Awards 2008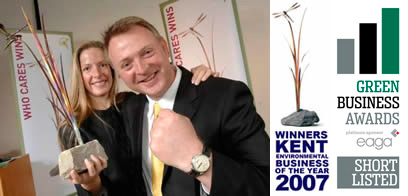 CLEARLY DELIGHTED: Paul and Susi Anderson with the main award.
Picture: PAUL DENNIS
Article by business editor Trevor Sturgess. Kent Messenger.
THE UK'S only organic horse livery yard has galloped off with Kent's leading "green" award.
Stone Circle Livery, at Woodchurch, near Ashford, was named Kent Environment Business of the Year at a presentation ceremony at East Malling Conference Centre on Friday.
This small, family-owned business encourages clients and other equine businesses to recognise the environmental benefits of going organic.
Judges of the prestigious Environment Awards for Kent Business 2007 praised the enterprise for careful waste management, creation of new habitat and woodland, and restoration of ponds and wild flower meadows not widely seen in the UK since since the Middle Ages.
Keith Ferrin, Kent County Council's Cabinet Member for Environment, Highways and Waste, said Stone Circle Livery had seen off stiff competition to win the top award for its dedication to reducing consumption, re-using materials and recycling, "cornerstones of sustainability."
"The company has worked hard to limit the mark it leaves on the local environment and, in common with the many other organisations that took part in this year's Awards, is showing how it can be done and encouraging others to follow suit. We need to work together to ensure that Kent businesses of all sizes and sectors take their example on board."
Susi Anderson, livery manager at Stone Circle Livery, said:
"We are delighted to have done so well in these awards because it recognises the importance we place on environmental issues at the core of our business philosophy.
"The awards give companies a benchmark to work towards in terms of high environmental standards and we are very proud that our environmental policies and efforts have been outlined as some of the best in Kent."
Other winners were ADM Computing, Canterbury (Community Involvement/Sustainability); Ecologia Environmental Solutions, Sittingbourne (Innovative Technology); Free Radicals Technology, Canterbury (Innovative Water Treatment); M-Real New Thames, Sittingbourne (Achievements in Resource Efficiency); SWEEEP, also from Sittingbourne (Recycling Best Practice); Southborough-based Cedar Press (Sustainability in Printing); Timber Tags, Canterbury (Inspirational New Business); W Alexander, Shoreham (Sustainable Business Management); and Wienerberger, Sittingbourne (Continuous Improvement).
The presentation ceremony was hosted by Kent Sustainable Business Partnership. Sponsors were Kent County Council, Business Link Kent, Cyberkix, East Malling Conference Centre, Environment Agency, Hillreed Homes, Kent Messenger Group and Pfizer.